Upcoming Events
with Sandy Gross
6pm to 8pm
12/4, 12/11, 12/18
with Swami Atmarupa & Sandy Gross
12/7, 12/9, 1/11, 1/13, 2/8, 2/10
with Swami Atmarupa
Friday, Dec 7, 7-8:30 AM
Open to All-Please Preregister
with Deb Smith
Sunday, Dec 9
3:30pm to 5:30pm

Susan Gundersen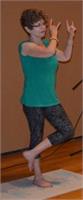 Susan Gundersen
AYT-L2, RYT 500 Sue has been an registered nurse since 1982 and draws upon this knowledge to help beginning yoga students make poses work for their bodies, no matter what physical limitations they may be facing. Sue invites you to her classes so she can share her enthusiasm for yoga with you.
Susan Gundersen instructs the following:
Improve your flexibility, strength, and stamina and learn basic breathing and stress relief techniques. The practices in Foundation A can help relieve and prevent degenerative conditions like arthritis, high blood pressure and back problems.



Suitable for all regardless of fitness level, health conditions or age. Teachers will provide modifications for your unique needs in this non-competitive environment.




A class based on Swami Niranjan's yoga capsule for optimal health. Knowledge of Sun Salutation required.