Raghunath, Sali Ryan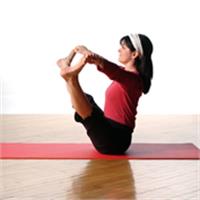 Raghunath's yoga practice has had a profound influence on her career as an educator, as she worked to introduce the use of movement, breathing and learning to be "still" and focused into the school system. She became a yoga instructor so that she could share with others the benefits she has enjoyed from her own practice.
Raghunath, Sali Ryan instructs the following:
These classes are best suited to those with some previous yoga experience. This level of practice increases core strength and flexibility through an exploration of more classic postures and the poses of Sun Salutation. Breathing practices and meditations increase lung capacity and relieve stress.


Beginners may attend if they have good health and a good level of fitness. These classes are more challenging than Fundamental Yoga.




Join a group chanting of the Maha Mrtyunjaya Mantra 108 times every Saturday from 4:30-5 pm. This mantra, chanted on Saturdays at The Bihar School of Yoga in India and Satyananda ashrams around the world, is believed to encourage healing. Names of people in need of support may be added to a list which is read and remembered before each chanting session.




Each technique in this class is presented with different options so you get a practice customized for your own strengths and needs. Every class includes yoga postures for strength and flexibility along with breathing practices and meditation for stress relief.




These classes are suitable for beginners, those with health challenges, and more advanced practitioners of yoga who wish to refine and deepen their awareness.

Improve your flexibility, strength, and stamina and learn basic breathing and stress relief techniques that can help relieve and prevent degenerative conditions like arthritis, high blood pressure and back problems.




Deepen your practice by exploring the theory behind more advanced postures, breathing practices, meditation techniques, and mudras. Be able to comfortably perform 6 rounds of full Satyananda Yoga Sun Salutation, know basic breathing techniques such as nadi shodana and ujjayi, and sit comfortably still for at least 15 minutes. Please speak with an instructor or phone 216-371-9760 to obtain permission to attend, especially after the first week of a session.