Upcoming Events
with Sandy Gross
6pm to 8pm
12/4, 12/11, 12/18
with Swami Atmarupa & Sandy Gross
12/7, 12/9, 1/11, 1/13, 2/8, 2/10
with Swami Atmarupa
Friday, Dec 7, 7-8:30 AM
Open to All-Please Preregister
with Deb Smith
Sunday, Dec 9
3:30pm to 5:30pm

Swami Atmarupa (Beverly Singh)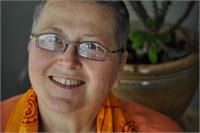 Atmarupa (Beverly Singh)
AYT-L2, E-RYT 500, RPYT (registered prenatal yoga teacher), RCYT (registered children yoga teacher), YACEP (Yoga Alliance Continuing Education Provider).
Swami Atmarupa is the Founder and Director of the Atma Center. She practiced anesthesia for 25 years and has been teaching yoga since 1995. She is also a member of the International Association of Yoga Therapists.
Swami Atmarupa (Beverly Singh) instructs the following:
Deepen your practice by exploring the theory behind more advanced postures, breathing practices, meditation techniques, and mudras. Be able to comfortably perform 6 rounds of full Satyananda Yoga Sun Salutation, know basic breathing techniques such as nadi shodana and ujjayi, and sit comfortably still for at least 15 minutes. Please speak with an instructor or phone 216-371-9760 to obtain permission to attend, especially after the first week of a session.




Improve your flexibility, strength, and stamina and learn basic breathing and stress relief techniques. The practices in Foundation A can help relieve and prevent degenerative conditions like arthritis, high blood pressure and back problems.



Suitable for all regardless of fitness level, health conditions or age. Teachers will provide modifications for your unique needs in this non-competitive environment.




Explore pranic practices through breathing and awareness of our life force energy, and why these practices heal body & mind. Includes the technique of prana nidra, a practice similar to yoga nidra.




Must have completed at least 6 months of yoga nidra/meditation classes and obtain permission of teacher.




Learn yoga practices to create and maintain a strong, supple and healthy back. Many of these techniques can be used on and off the mat to prevent and heal many low back problems. This class focuses on learning healthy alignment, while strengthening, stretching and balancing the supporting structures of the spine. You will learn to recognize and strengthen the core. Breathing and guided meditations are included to help release deeply held tensions that often exacerbate back pain.




These 90 minute classes often include themes which are developed over weeks to more fully progress the practices. Lite version has less difficult asanas but goes deeply into the other practices. Chakras, mudras, bandhas, mantras and more are explored. You should have good familiarity of all prior levels above and be able to sit comfortably still for 20-30 minutes.




Join a group chanting of the Maha Mrtyunjaya Mantra 108 times every Saturday from 4:30-5 pm. This mantra, chanted on Saturdays at The Bihar School of Yoga in India and Satyananda ashrams around the world, is believed to encourage healing. Names of people in need of support may be added to a list which is read and remembered before each chanting session.




In the US approximately 18% of the population can be diagnosed with some form of anxiety disorder at any time. However, nearly everyone has experienced anxiety for various periods of time.

Major symptoms of anxiety affect the body, energy, emotions, mind, and spirit. Therefore, yoga is an excellent resource to alleviate anxiety, especially Satyananda Yoga. Satyananda Yoga integrates practices that address all aspects of our being, cultivating a state of awareness that can help you become more objective and present, resulting in decreased stress and anxiety.




Improve cardiovascular health and upper body strength with flowing Sun Salutation and more challenging asanas. You will also develop mental focus and concentration through more advanced meditative practices.




Each technique in this class is presented with different options so you get a practice customized for your own strengths and needs. Every class includes yoga postures for strength and flexibility along with breathing practices and meditation for stress relief.