Upcoming Events
with Sandy Gross
6pm to 8pm
12/11, 12/18
Taming Your Demons with Swami Atmarupa
1/1/2019 1pm to 3pm
with Swami Atmarupa
1/5/2019 2pm to 4pm
with Swami Atmarupa & Sandy Gross
1/11, 1/13, 2/8, 2/10

Navaratri Program
This class is taught by: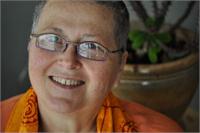 Atmarupa (Beverly Singh)
AYT-L2, E-RYT 500, RPYT (registered prenatal yoga teacher), RCYT (registered children yoga teacher), YACEP (Yoga Alliance Continuing Education Provider).
Swami Atmarupa is the Founder and Director of the Atma Center. She practiced anesthesia for 25 years and has been teaching yoga since 1995. She is also a member of the International Association of Yoga Therapists.
Awaken your inner power! Navaratri ("nine nights") is considered a most auspicious time for yoga practice. Learn mantras to harness your innate ability to overcome obstacles (Durga), create abundance (Laxmi), and reach higher states of being (Saraswati).
This festival honoring the divine feminine energy takes place October 9-18, with chanting and kirtan every evening.
Mon - Thurs, 7:45 - 8:45 pm
Fri - Sat - Sun, 5-6 pm
Free and open to all but WE REQUEST THAT YOU PRE-REGISTER - go to the "classes" tab and select the nights you are attending to enter your name.