Upcoming Events



Beginners' Yoga Workshop
with Swami Atmarupa
Sunday, May 21
1:00-3:00 PM

Yama & Niyama Monthly Study Group
with Swami Atmarupa
Sundays, 4-5:30 PM


May 21,

Jun 18, Jul 16, Aug 13, Sep 10, Oct 8, Nov 5
Attend one or all!


2017 INDIA TRIP!
with Swami Atmarupa
Trip includes a course with Swami Niranjanananda, visits to two Ashrams, sightseeing and much more!
Nov. 25th-Dec. 19th


Foundation B (Open to All)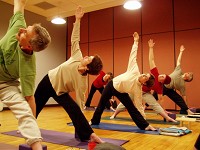 This class increases core strength and flexibility through an exploration of classic postures such as triangle, half camel and the poses of Sun Salutation. Breathing practices and meditations increase lung capacity and relieve stress.
Upcoming classes: