Upcoming Events



Codes for Joy: Yamas & Niyamas
with Swami Atmarupa
Saturday, Feb 18, 2-4 PM

Maha Shivaratri
with Sannyasi Atmadarshan
Friday, Feb 24, 7-8 PM
Saturday, Feb 25, 4-7 PM
Full program includes chanting & kirtan!

Align Your Body
with Denise Clement
Saturday, Mar 4, 2 - 4 PM

Yama & Niyama Monthly Study Group
with Swami Atmarupa
Sundays, 4-5:30 PM
Mar 5, Apr 2, May 21, Jun 18, Jul 16, Aug 13, Sep 10, Oct 8, Nov 5
Attend one or all!

Live Your Best Life
An Intro to the Bhagavad Gita
with Atmadarshan
Saturday, Mar 11, 2-4 PM



Back and Core
This class is taught by:
Deb best serves adults who have back pain, joint pain, trouble with balance (physical or emotional) or simply want to feel better. Her gentle nature, yoga training, and knowledge of anatomy, physiology and body mechanics make her an ideal instructor for those with limited previous yoga experience who want to develop a supportive practice.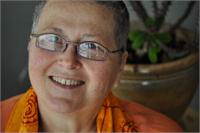 Swami Atmarupa is the Founder and Director of the Atma Center. She practiced anesthesia for 25 years and has been teaching yoga for over 15 years. She is also a member of the International Association of Yoga Therapists.
Learn yoga practices to create and maintain a strong, supple and healthy back. Many of these techniques can be used on and off the mat to prevent and heal many low back problems. This class focuses on learning healthy alignment, while strengthening, stretching and balancing the supporting structures of the spine. You will learn to recognize and strengthen the core. Breathing and guided meditations are included to help release deeply held tensions that often exacerbate back pain.
Upcoming classes:
Sign Up

Tue

Feb 21 6:00 pm - 7:30 pm

with

Deb

Klein




Sign Up

Tue

Feb 28 6:15 pm - 7:30 pm

with

Swami Atmarupa

(Beverly Singh)




Sign Up

Tue

Mar 07 6:15 pm - 7:30 pm

with

Swami Atmarupa

(Beverly Singh)




Sign Up

Tue

Mar 14 6:15 pm - 7:30 pm

with

Swami Atmarupa

(Beverly Singh)




Sign Up

Tue

Mar 21 6:15 pm - 7:30 pm

with

Swami Atmarupa

(Beverly Singh)




Sign Up

Tue

Mar 28 6:15 pm - 7:30 pm

with

Swami Atmarupa

(Beverly Singh)




Sign Up

Tue

Apr 04 6:15 pm - 7:30 pm

with

Swami Atmarupa

(Beverly Singh)




Sign Up

Tue

Apr 11 6:15 pm - 7:30 pm

with

Swami Atmarupa

(Beverly Singh)




Sign Up

Tue

Apr 18 6:15 pm - 7:30 pm

with

Swami Atmarupa

(Beverly Singh)




Tue

Apr 25 6:15 pm - 7:30 pm

with

Swami Atmarupa

(Beverly Singh)




Tue

May 02 6:15 pm - 7:30 pm

with

Swami Atmarupa

(Beverly Singh)




Tue

May 09 6:15 pm - 7:30 pm

with

Swami Atmarupa

(Beverly Singh)




Tue

May 16 6:15 pm - 7:30 pm

with

Swami Atmarupa

(Beverly Singh)




Tue

May 23 6:15 pm - 7:30 pm

with

Swami Atmarupa

(Beverly Singh)




Tue

May 30 6:15 pm - 7:30 pm

with

Swami Atmarupa

(Beverly Singh)




Tue

Jun 06 6:15 pm - 7:30 pm

with

Swami Atmarupa

(Beverly Singh)




Tue

Jun 13 6:15 pm - 7:30 pm

with

Swami Atmarupa

(Beverly Singh)