Upcoming Events



Beginners' Yoga Workshop
with Swami Atmarupa
Sunday, May 21
1:00-3:00 PM

Yama & Niyama Monthly Study Group
with Swami Atmarupa
Sundays, 4-5:30 PM


May 21,

Jun 18, Jul 16, Aug 13, Sep 10, Oct 8, Nov 5
Attend one or all!


2017 INDIA TRIP!
with Swami Atmarupa
Trip includes a course with Swami Niranjanananda, visits to two Ashrams, sightseeing and much more!
Nov. 25th-Dec. 19th


Level 2 Yoga Nidra/Meditation (Permission Needed)
This class is taught by: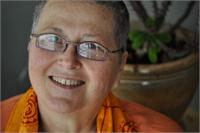 Atmarupa (Beverly Singh)
AYT-L2, E-RYT 500, RPYT (registered prenatal yoga teacher), RCYT (registered children yoga teacher), YACEP (Yoga Alliance Continuing Education Provider).
Swami Atmarupa is the Founder and Director of the Atma Center. She practiced anesthesia for 25 years and has been teaching yoga since 1995. She is also a member of the International Association of Yoga Therapists.
Must have completed at least 6 months of yoga nidra/meditation classes and obtain permission of teacher.
Upcoming classes:
Sign Up

Mon

Jun 05 6:30 pm - 7:30 pm

with

Swami Atmarupa

(Beverly Singh)




Sign Up

Mon

Jun 12 6:30 pm - 7:30 pm

with

Swami Atmarupa

(Beverly Singh)




Sign Up

Mon

Jun 19 6:30 pm - 7:30 pm

with

Swami Atmarupa

(Beverly Singh)




Sign Up

Mon

Jun 26 6:30 pm - 7:30 pm

with

Swami Atmarupa

(Beverly Singh)




Sign Up

Mon

Jul 03 6:30 pm - 7:30 pm

with

Swami Atmarupa

(Beverly Singh)




Sign Up

Mon

Jul 10 6:30 pm - 7:30 pm

with

Swami Atmarupa

(Beverly Singh)




Sign Up

Mon

Jul 17 6:30 pm - 7:30 pm

with

Swami Atmarupa

(Beverly Singh)




Sign Up

Mon

Jul 24 6:30 pm - 7:30 pm

with

Swami Atmarupa

(Beverly Singh)




Mon

Jul 31 6:30 pm - 7:30 pm

with

Swami Atmarupa

(Beverly Singh)




Mon

Aug 07 6:30 pm - 7:30 pm

with

Swami Atmarupa

(Beverly Singh)




Mon

Aug 14 6:30 pm - 7:30 pm

with

Swami Atmarupa

(Beverly Singh)




Mon

Aug 21 6:30 pm - 7:30 pm

with

Swami Atmarupa

(Beverly Singh)




Mon

Aug 28 6:30 pm - 7:30 pm

with

Swami Atmarupa

(Beverly Singh)




Mon

Sep 04 6:30 pm - 7:30 pm

with

Swami Atmarupa

(Beverly Singh)




Mon

Sep 11 6:30 pm - 7:30 pm

with

Swami Atmarupa

(Beverly Singh)




Mon

Sep 18 6:30 pm - 7:30 pm

with

Swami Atmarupa

(Beverly Singh)




Mon

Sep 25 6:30 pm - 7:30 pm

with

Swami Atmarupa

(Beverly Singh)