Upcoming Events
with Sandy Gross
6pm to 8pm
12/4, 12/11, 12/18
with Swami Atmarupa & Sandy Gross
12/7, 12/9, 1/11, 1/13, 2/8, 2/10
with Swami Atmarupa
Friday, Dec 7, 7-8:30 AM
Open to All-Please Preregister
with Deb Smith
Sunday, Dec 9
3:30pm to 5:30pm

Mahamrtyunjaya Mantra Chanting (Open to All)
This class is taught by: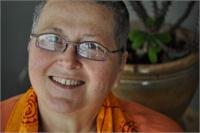 Atmarupa (Beverly Singh)
AYT-L2, E-RYT 500, RPYT (registered prenatal yoga teacher), RCYT (registered children yoga teacher), YACEP (Yoga Alliance Continuing Education Provider).
Swami Atmarupa is the Founder and Director of the Atma Center. She practiced anesthesia for 25 years and has been teaching yoga since 1995. She is also a member of the International Association of Yoga Therapists.
Join a group chanting of the Maha Mrtyunjaya Mantra 108 times every Saturday from 4:30-5 pm. This mantra, chanted on Saturdays at The Bihar School of Yoga in India and Satyananda ashrams around the world, is believed to encourage healing. Names of people in need of support may be added to a list which is read and remembered before each chanting session.
Upcoming classes:
Sign Up

Sat

Dec 15 4:30 pm - 5:00 pm

with

Swami Atmarupa

(Beverly Singh)




Sign Up

Sat

Dec 22 4:30 pm - 5:00 pm

with

Swami Atmarupa

(Beverly Singh)




Sign Up

Sat

Dec 29 4:30 pm - 5:00 pm

with

Swami Atmarupa

(Beverly Singh)




Sign Up

Sat

Jan 05 4:30 pm - 5:00 pm

with

Swami Atmarupa

(Beverly Singh)




Sign Up

Sat

Jan 12 4:30 pm - 5:00 pm

with

Swami Atmarupa

(Beverly Singh)




Sign Up

Sat

Jan 19 4:30 pm - 5:00 pm

with

Swami Atmarupa

(Beverly Singh)




Sign Up

Sat

Jan 26 4:30 pm - 5:00 pm

with

Swami Atmarupa

(Beverly Singh)




Sign Up

Sat

Feb 02 4:30 pm - 5:00 pm

with

Swami Atmarupa

(Beverly Singh)




Sat

Feb 09 4:30 pm - 5:00 pm

with

Swami Atmarupa

(Beverly Singh)




Sat

Feb 16 4:30 pm - 5:00 pm

with

Swami Atmarupa

(Beverly Singh)




Sat

Feb 23 4:30 pm - 5:00 pm

with

Swami Atmarupa

(Beverly Singh)




Sat

Mar 02 4:30 pm - 5:00 pm

with

Swami Atmarupa

(Beverly Singh)




Sat

Mar 09 4:30 pm - 5:00 pm

with

Swami Atmarupa

(Beverly Singh)




Sat

Mar 16 4:30 pm - 5:00 pm

with

Swami Atmarupa

(Beverly Singh)




Sat

Mar 23 4:30 pm - 5:00 pm

with

Swami Atmarupa

(Beverly Singh)




Sat

Mar 30 4:30 pm - 5:00 pm

with

Swami Atmarupa

(Beverly Singh)




Sat

Apr 06 4:30 pm - 5:00 pm

with

Swami Atmarupa

(Beverly Singh)